Distinguished Professor Joseph A. Johnson III
Dr. Joseph A. Johnson III, Founding EBASI [Edward Bouchet Abdus Salam Institute] Council Member and initiator of the ICTP-EBASI collaboration with Dr. Abdus Salam [Nobel Laureate and First Director of the ICTP], passed away on 25 June of 2017. Joe's passing was suddent, totally unexpected, and brought much sadness.
A joint proposal by Professor Joseph Johnson and Dr. Jean-Pierre Ezin establishing EBASI/ICTP, its Founding Council Members, and its Executive Committee was approved and finalized on 30 September 1988 in Trieste, Italy by Professor Salam who was also President of TWAS (THE WORLD ACADEMY OF SCIENCES, based in Trieste on the ICTP campus).
To the family, friends, and colleagues of Joe, EBASI extends its most sincere and heart-felt condolences. As the First Chairman of EBASI, Joe provided the requisite thoughtful, tireless, and indefatigable leadership the fledgling organization needed to carry out its mission objectives: [1] Providing a mechanism for synergistic scientific and technical collaborations between African and American physical scientists, engineers, and technologists; [2] Enhancing the impact of science and technology on the sustainable development of the countries on the African continent, and more specifically; [3] Increasing the technical manpower pool working in Africa today by facilitating the training of Ph.D. students from African universities; [4] Creating close contacts on a World Wide basis with universities, governmental and private sector institutions and organizations, and foundations which facilitate and advance EBASI objectives; and [5] Initiating any other activities that advance EBASI objectives at the highest level possible. Professor Joseph Andrew Johnson III is greaty missed now and will continue to be greatly missed by those who knew him.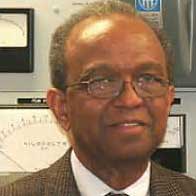 Distinguished Professor Joseph Andrew Johnson III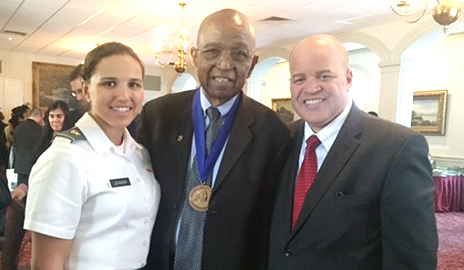 Dr. Joseph A. Johnson (center) with his son and granddaughter,
after receipt of the Yale University Bouchet Leadership Award Medal,
April, 2016.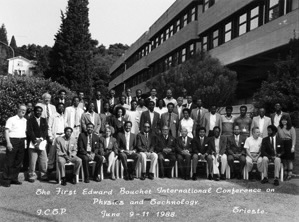 Dr. Joseph A. Johnson III
(seated [fifth from the left, ICTP Director Professor Abdus Salam at his immediate left], his wife Dr. Lynette E. Johnson seated [third from the left])
at the First EBASI ICTP Conference
Click image for a larger view.