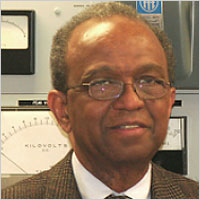 On 25 June 2017, Joseph Andrew Johnson III passed away at the age of 77 from heart failure. He was a giant and had tremendous impact on the field of plasma physics and the development of physics research and education in Africa and among African Americans.
Born on 26 May 1940 in Nashville, Tennessee, Joe graduated summa cum laude and Phi Beta Kappa with a bachelor's degree in physics from Fisk University. He continued his studies in physics at Yale, where he earned a master's degree in 1961 and PhD in 1965. Joe held a number of positions, including researcher at Bell Laboratories and faculty appointments at Yale, Southern, Rutgers, City College of New York where he was Herbert Kayser Professor, and finally Florida A&M (FAMU), where he was Distinguished Professor of Science and Engineering, Professor of Physics, Affiliate Professor of Mechanical Engineering, and Director of the Center for Plasma Science and Technology.
Joe spent most of his career studying turbulence in plasmas using laser-induced fluorescence. He led the research group that provided the first determination of low chaotic dimension in fully turbulent collisional plasmas, as well as chaotic dimension distortion in magnetized turbulent plasmas. His group provided the first clear evidence of the connection between supersonic eddy shocklets and a local turbulent Reynolds number. He led the establishment of FAMU's doctoral program in physics, started in 2001, and advised approximately 15 PhD students.
Nationally, Joe has been an inspiration to generations of African-American faculty and students. Before the National Society of Black Physicists (NSBP) existed, Joe helped to convene the first meeting of African-American physicists. That meeting grew out of conversations between James Young, on leave to MIT from Los Alamos National Laboratory, and one of the authors (R.E.M.), who was a National Science Foundation Postdoctoral Fellow at MIT. About 50 physicists met in 1972 at Fisk University in Nashville, Tennessee, where R.E.M. was on the faculty and chaired the Local Organizing Committee. The purpose was to convene a day of scientific lectures to honor three outstanding African Americans: Donald Edwards, founding chair of the Physics Department at North Carolina A&T; John Hunter, former chair of the Physics Department at Virginia State; and Halston Eagleson, professor of physics at Howard. Joe and Harry Morrison of the University of California, Berkeley led the Awards Committee. Another notable physicist involved was James Davenport of Virginia State. After a series of such meetings, Joe and others decided to establish NSBP, the first meeting of which occurred in 1977 at Morgan State in Baltimore. Joe played an important role in drafting the constitution and bylaws and served as one of its early presidents. He led the Awards and Fellowship Committee for many years and continued to serve NSBP in an advisory capacity until his passing.
Internationally, Joe teamed with Nobelist Abdus Salam to convene a meeting in 1988 at the International Centre for Theoretical Physics in Trieste, with the purpose of bringing Africans and African-American scientists together to forge collaborations. Joe and his wife, Lynette, received a grant from NSF that allowed a number of African Americans to attend. Participants founded the Bouchet Institute, named for Edward A. Bouchet, who received a physics bachelor's degree in 1874 and physics PhD in 1876, both from Yale, becoming the first African American to earn a PhD in any field. The Bouchet Institute brought a number of African graduate students to the US to conduct their research and then return home to complete their studies. Another major success was a collaboration co-led by one of the authors (S.K.M.) with South Africa's National Laser Centre in 2003 to establish the African Laser Centre (ALC), which is a network of more than 30 laser laboratories in various African countries and whose goal is to enhance laser-based research and education on the continent. Since its founding, the ALC has hosted workshops for approximately 1500 students and provided fellowships for roughly 200 PhD students. After the passing of Salam, the Bouchet Institute was renamed the Edward Bouchet–Abdus Salam Institute (EBASI). Joe remained on the EBASI Executive Council until his passing.
In addition to Joe's tremendous legacy in plasma physics, he will continue to loom large over the quest for African peoples to achieve tremendous heights in scientific endeavors. It is fitting that Yale awarded Joe its 2016 Bouchet Leadership Award Medal.
Joe, reluctantly we must say farewell. You have been an outstanding role model for so many of us. May you rest in peace.